Wedge Wire
 Wedge Wire: Your Premium Choice for Efficiency and Durability
At Alex Manufacturer SDN BHD, we pride ourselves on being a leading supplier, distributor, and contractor for a comprehensive range of wire mesh products, including our exceptional Wedge Wire.
Superior Materials for Unmatched Performance:
Wedge Wire is renowned for its durability and efficiency. Crafted using high-grade materials, our Wedge Wire is designed to withstand various conditions, offering a robust solution for your requirements.
Precision-Engineered for Optimum Functionality:
Our Wedge Wire features a unique V-shaped profile that provides non-clogging and self-cleaning capabilities, making it a superior choice for a variety of applications. Its distinctive design also allows for more significant open areas, ensuring optimal flow rates and reducing the risk of product entrapment.
Versatile Applications:
Due to its robust and efficient design, Wedge Wire is widely used in a range of industries. From water treatment and filtration systems to architectural applications, food and beverage processing, and more, Wedge Wire offers a versatile and reliable solution for various operational needs.
Customizable Solutions:
At Alex Manufacturer SDN BHD, we understand that each application requires a unique approach. That's why we offer customizable solutions for our Wedge Wire products. Whether you need specific dimensions, material types, or wire profiles, our team can tailor our products to meet your precise requirements.
Trust Alex Manufacturer SDN BHD for Your Wedge Wire Needs:
Choose Alex Manufacturer SDN BHD for your Wedge Wire needs and experience the unmatched quality, efficiency, and durability that our products offer. With our commitment to superior craftsmanship and customer satisfaction, you can count on us to deliver a product that exceeds your expectations.
Please find below a list of standard wedgewire profiles that can be tailor made to your specifications.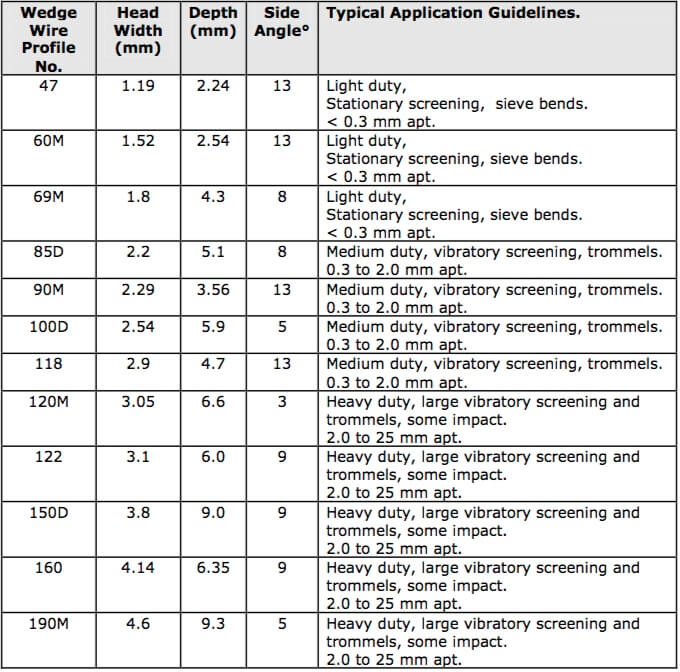 Support Rod Options
This table shows the support rod variations available to hold the wedge wires in place.
Talk us to get the lowest price and highest quality in malaysia in today.
Alex Manufacturer SDN BHD,Professional in: Anti-climb & Anti-cut fence. Stainless Steel High Security Window Screen. Metal Wire Mesh. Stainless Wire Mesh. Fencing Mesh. Razor Wire. We are professional in wire mesh.That is all we do. High quality has always been our creed. Low price with high quality. We are not a distributor.  We manufacture all of our products.We believe in customer first. We provide security solution. We provide service with customized services. We protect you and your family. We serve you people-oriented. We want you safer and closer to nature.
Contact us and inquiry to get the lowest price and highest quality in malaysia in today.
Tel : +603-7783 9887  Fax : +603-7781 9887  Email: [email protected]